They say experience is the greatest teacher. We say making a fool of yourself imparts a lesson you'll remember forever. With that in mind, we came up with a card game that challenges you to be as silly as possible to learn a new dialect or language.
Within weeks, you just might transform into a dialect king or queen with SayWhat?.
Cherry on top? Big laughs guaranteed.
WHAT IS SAYWHAT? CARD GAME?
Unlike most regular (read: mind-numbing, braincell-combusting) methods, SayWhat? lets you learn a new dialect or language the fun way through a simple game of cards.
WHY?
Language has the power to create new and meaningful relationships between people. Every Chinese person belongs to a dialect group, such as Cantonese, Hokkien, Teochew, Hakka, and Hainanese, to name a few. With the exception of Hokkien and Teochew, all Chinese dialects sound very different from one another.
However, many of the younger generation of Chinese can only speak Mandarin, losing touch of their native dialect as a result.
SayWhat? aspires to keep dialects going by sharing its unique awesomeness with everyone in an entertaining and accessible way.
HOW?
Gamification is crucial in learning anything. When you're having fun, picking up new language becomes far less daunting.
SayWhat?'s rules are simple.
First, split into two teams. Then, each team nominates a reader. The reader will read out two combination of cards, with the blue card first followed by the red.
Within one minute, the rest of the team has to guess what the card combo says. You're allowed to act out what's on the cards to help your team mates along, so go crazy! The process repeats between teams till both blue and red decks are finished.
The team with the highest correct guesses will be crowned #teamgengchow. Cue the popping of champagne bottles and poorly coordinated victory dances.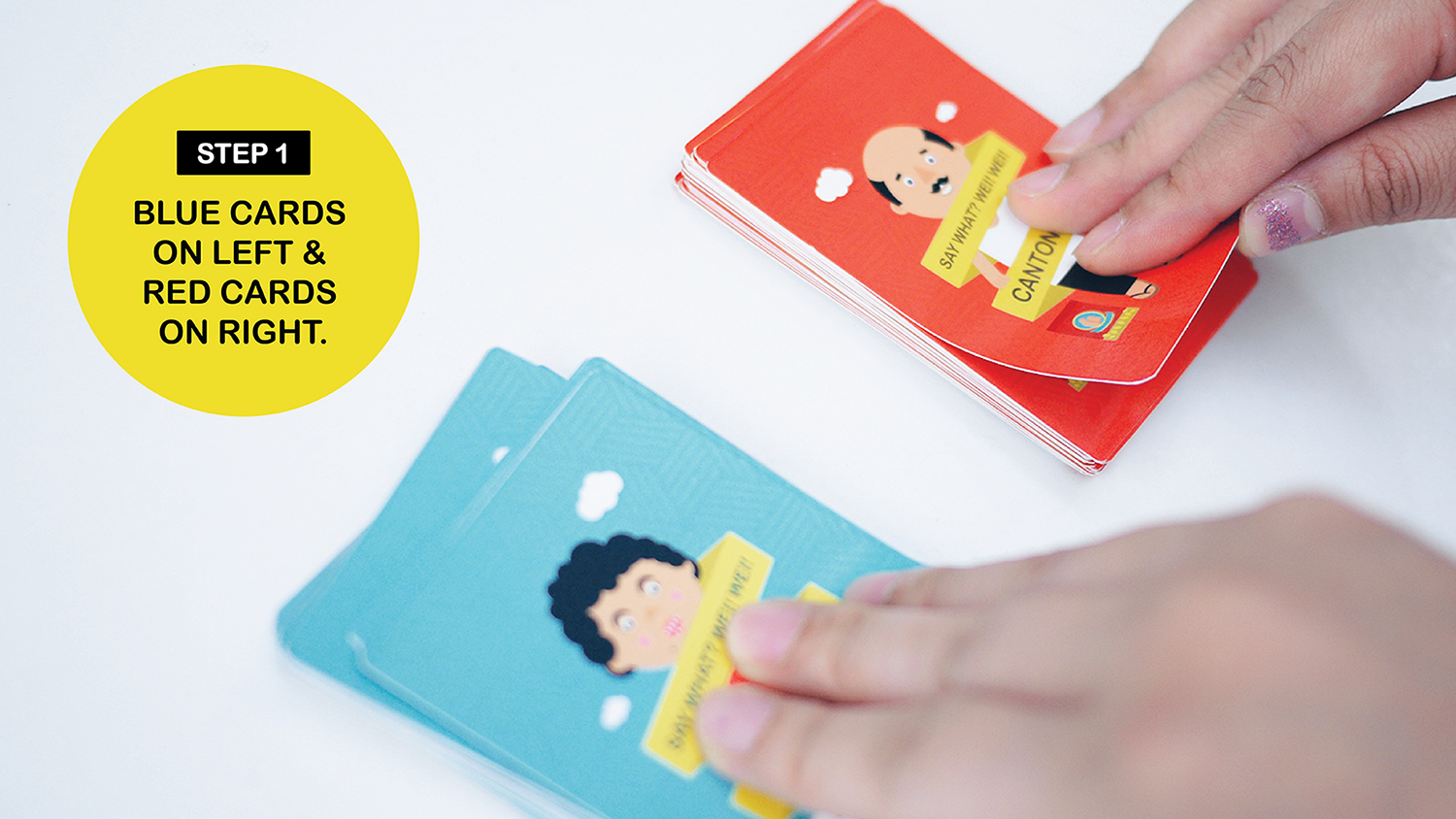 ONE LAST THING...
Having a little trouble pronouncing the words on the cards? We got your back.
Click on our '+Audio' tab at the top of the page for the audio guide to help you pronounce each and every word on the cards like a pro (or should we say sifu?). You're welcome.